lufolk
Regular price
Sale price
€49,90 EUR
Unit price
per
Sale
Sold out
Free shipping - Free returns world wide

Estimated shipping time is:

- 1-2 weeks within EU

- 2-4 weeks outside EU.

Your package will be sent with PostNord (Sweden's national postal service) and will be taken care of your national postal service when it arrives to your country.
Your order will be packed by Lufolk team and dispatched from Sweden. Our processing time is 0-3 weeks.
Tracking: Depending on the value of the order it can be shipped as regular mail or tracking number. Orders shipped with regular mail are not traceable. However, you can purchase a tracking number for any order at the checkout or by contacting me, as long as it has not been dropped off at the post office.
We take responsibility for all orders until they are delivered. If your order is lost or damaged, please contact us and we will work with you to resolve the issue. Use the chat button or email us at Philip@Lufolk.com
Returns: We have free returns and, a 100% customer satisfaction guarantee. If the product is not to your liking you can return it for free within 30 days of arrival, and you are refunded.

All products have a lifetime warranty and can be returned for free anytime if defects appear and you will be refunded.

Please contact us at Philip@lufolk.com before you return your product so we can make up an agreement for refunds. If you wish to do an exchange instead we do accept such a solution as well.
Lifetime warranty - Forged in Sweden

If you are looking for high-quality, handmade products from Sweden, you are in the right place. All of our products are made to last, therefore we offer a lifetime warranty.

Lufolk is a Swedish brand that makes handmade jewelry, tools, and household items. The brand is inspired by traditional Swedish craftsmanship and uses simple tools and techniques to create unique and functional products.

Lufolk is owned and operated by Philip Lufolk who is passionate about his work. He believes in the importance of skill and flexibility in his craft, and he enjoys working on custom orders to meet the needs of his customers.

If you are looking for high-quality, handmade products from Sweden, this is it.
Safe payment

This store is using Shopify Payments which allows the following payment methods:

By card

All major credit cards such as

Visa
Mastercard
Maestro
American Express

Wallets

Shopify Payments accepts digital wallet payments, such as:

Additional payment methods

Shop Pay

Local payment methods

These are popular ways to pay in specific countries/regions.
Testimonials

Sophie, Instagram @falyriae

Having the honor of wearing the crescent moon pendant forged by Philip was truly exciting. You can easily distinguish his style from many others, by his magical touch. Behind his works, there is a lot of love, dedication, culture, and magnificent energy concentrated in her magnificent creations, and you can feel all this by wearing them. It's like being in contact with a real time shaper, I guarantee it! //Sophie, @falyriae

I have been working with Lufolk for a couple of years plus enjoying his craftsmanship even before that. 

Philips's creative ideas and incredible eye for detail and history, while being able to see old things in a new light are remarkable and he has never stopped to show up in the fullest integrity to his vision and passion to be of service as the village blacksmith. 

Today I'm happy and honored to be working with Philip in the creation of my URKRAFT pendants. 

If you are searching for smith work from axe and knife to pendants and finger rings customized to your personal needs and ideas I can't recommend Philip Lufolk enough. //Anders, Ullrs Bloð
Crescent moon. Irion ring inspired by the moon pendant

Iron ring that is inspired by the moon pendant I make. The small ring on top moves freely and measures approx 1 cm across. This ring can be made in any size.
It´s Hand forged and made with traditional methods out of iron. It´s made with burnt linseed oil as coating to prevent oxidation and to get this beautiful black color.
(Note: Since it's all handmade shapes may slightly vary).
Share
Processing time

All products are made to order and have a 1-3 week processing time plus shipping time.

If you wish to have your order for a special occation please contact me so I can schedule and have it ready for our agreed date.

Shipping time within EU: 1-3 weeks

Shipping time outside EU: 2-4 weeks

Please note that shipping time is out of my control. Orders are shipped with Post nord.
Materials

It´s made out of iron / mild steel and has a coating of linseed oil (if not stated otherwise in description)
How to measure - A guide to the right size

Find a ring sizing conversion chart online. This will help you convert your measurement to the right ring size.

Cut out a narrow strip of paper: The strip should be long enough to wrap around your finger.

Wrap the paper around your knuckle: Place the paper strip around the knuckle right above where you want to wear the ring. The ring will need to be big enough to slide over the knuckle.

Draw a line where the strip overlaps: Draw a line with the strip of paper that overlaps the end that's touching your finger.

Unroll the paper and measure: Unroll the paper strip and measure the distance from the end to the marked line. Measure in centimeters or millimeters for the most accurate size.

Compare your measurement to the size chart: For instance, a measurement of 67.2 millimeters corresponds to a ring size of 12 in the U.S.
Care information

I recommend keeping the product away from water and moisture. It has a protective layer of linseed oil so if it gets wet no harm is done, just wipe it off and let it dry. The best protection and care is to use the product daily :)

If you wash your hands with the ring on, make sure to wipe off the inside of the ring and your finger under the ring to avoid moisture getting trapped in between
View full details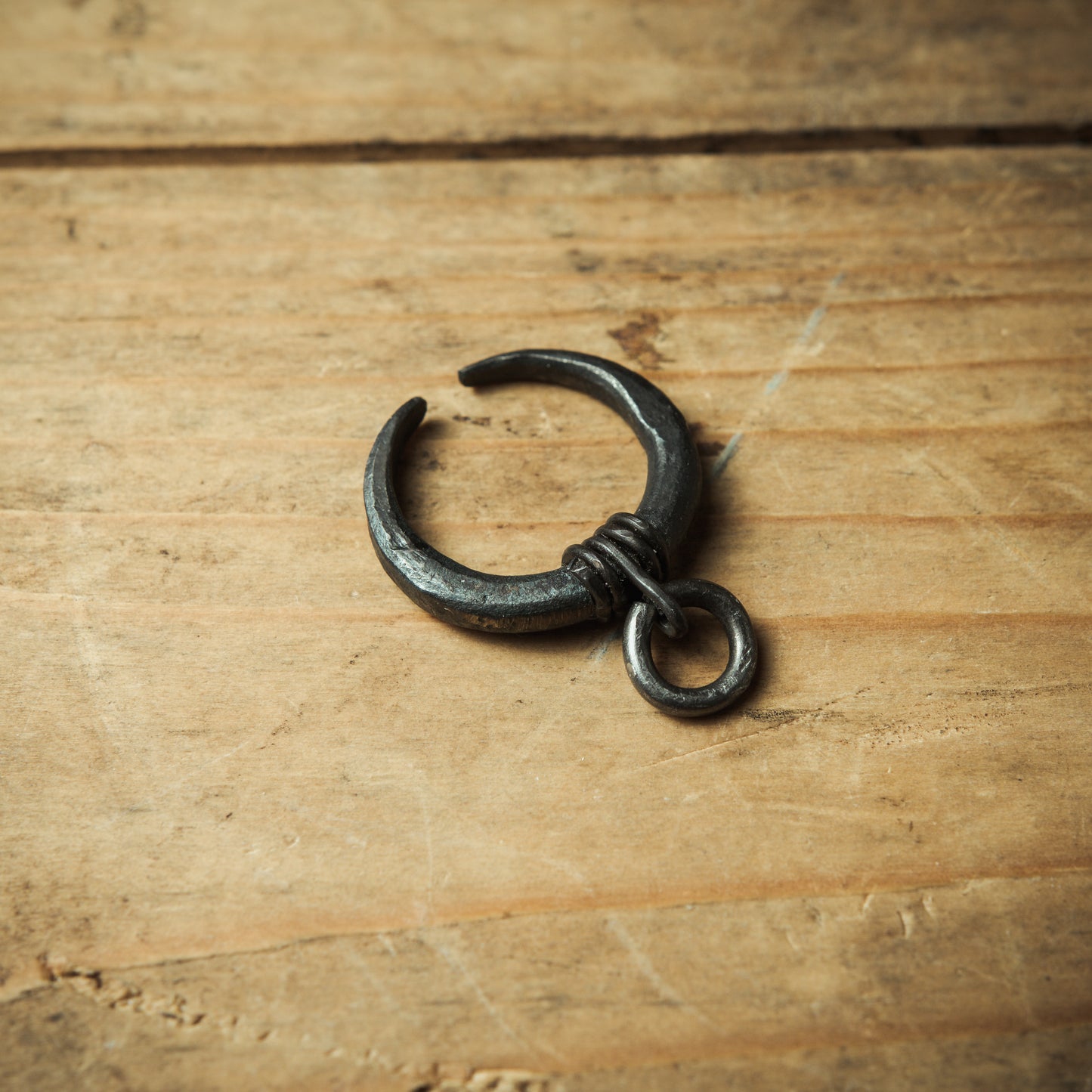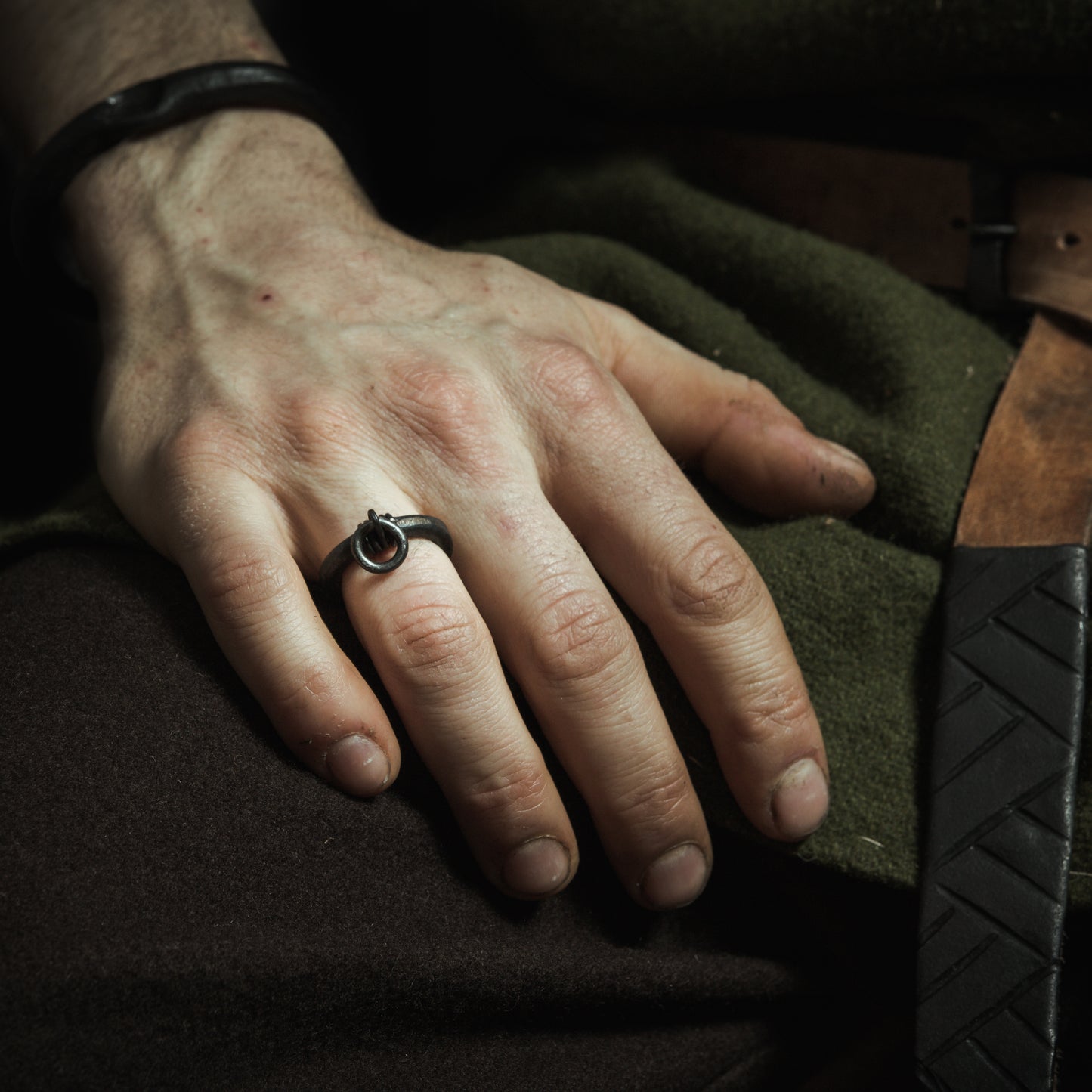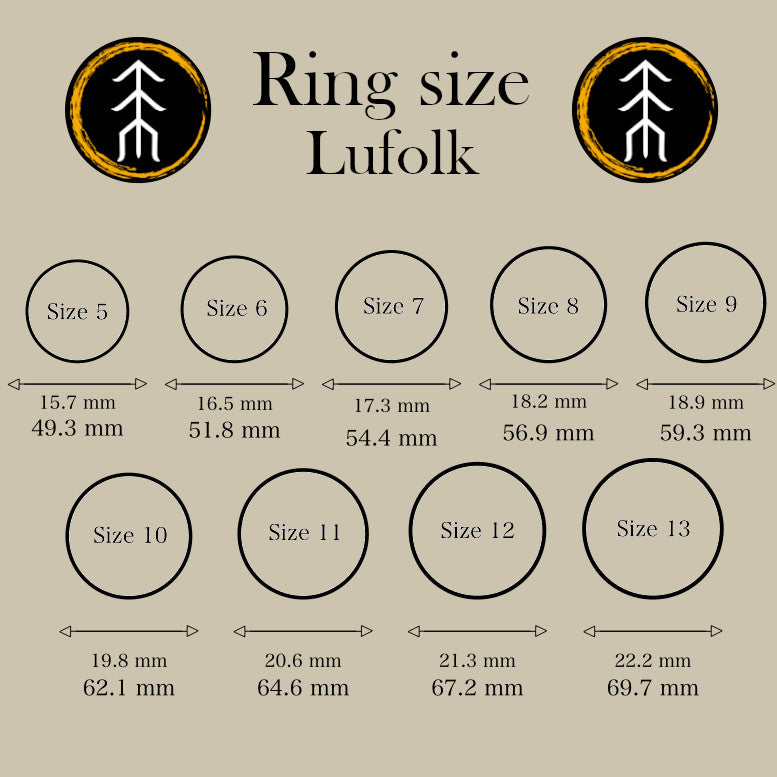 Nice fit
This is another ring I brought. I must have brought it about 3 years ago. Its great I love to fiddle with it on my finger. It is very comfortable and attractive.